Find your balance and harmony inside and out as you breathe, move, sweat and flow with Florblanca Pilates.
Watch our Pilates Video Series on VIVAFlorblanca.
Our instructors invite all travelers to indulge in Pilates during their stay at Florblanca. Learn how to protect your body and better utilize your deep core muscles. You will feel taller, longer, leaner, and more connected to your body and inner strength.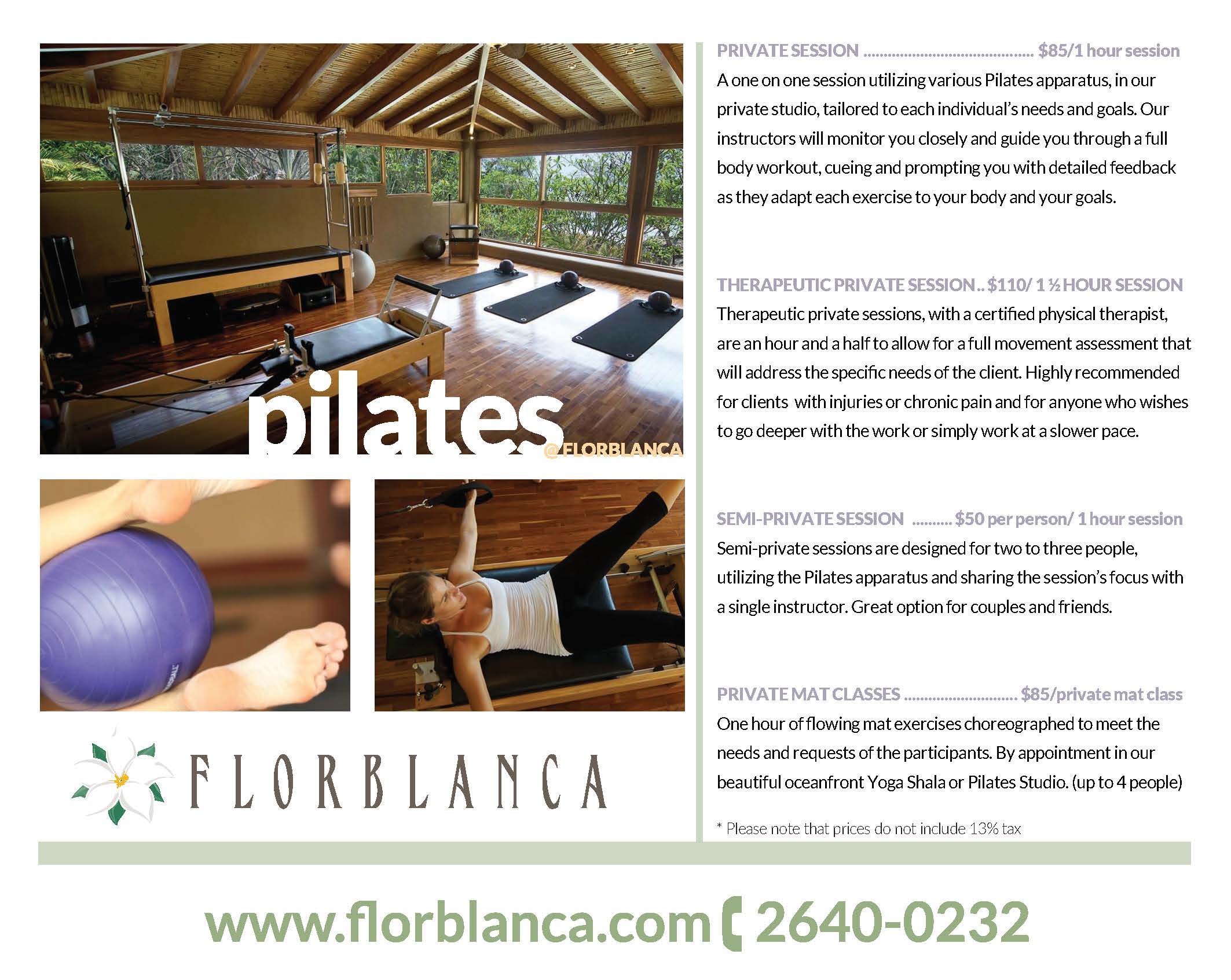 Our Pilates studio is fully equipped with Pilates apparatus, and private or semi-private classes are scheduled at your convenience. Our Pilates studio is open to students of all levels. Newcomers will benefit from a personalized step by step introduction to the Pilates method, while more experienced students will get a chance to review their practice and work on more advanced exercises.
Practice at home with Jenny, Nadja, and Lucia with our Pilates Video Series on VIVAFlorblanca.
Private Session
A one on one session utilizing various Pilates apparatus, in our private studio, tailored to each individual's needs and goals. Our instructors will monitor you closely and guide you through a full body workout, cueing and prompting you with detailed feedback as they adapt each exercise to your body and your goals. $85/1 hour session
Therapeutic Private Session
Therapeutic private sessions are an hour and a half to allow for a full movement assessment that will address the specific needs of the client. Highly recommended for clients with injuries or chronic pain and for anyone who wishes to go deeper with the work or simply work at a slower pace. $110/ 1 ½ hour session
Semi Private Session
Semi private sessions are designed for two to three people, utilizing the Pilates apparatus and sharing the session's focus with a single instructor. Great option for couples and friends. $50 per person/ 1 hour session
Private Mat Classes
One hour of flowing mat exercises choreographed to meet the needs and requests of the participants. By appointment in our beautiful ocean front yoga shala. Price varies according to number of people.
For further information about our Pilates classes and studio, or to make an appointment, please contact Pilates@florblanca.com.